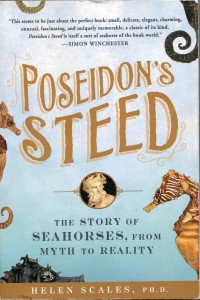 YES – a book about seahorses!  Poseidon's Steed, a strange breed of book by the way. Author Helen Scales, appearing in cork screw curl and soft smile on the non-optional author portrait,  a Cambridge doctor with a career in conservation, public outreach and coral reef fish studies, has summed up  a personal, life-long obsession with sea horses.
What I loved with Lady with a spear, the dedication to collecting and preserving fish for scientific study, does not charm this text, written by a diver and marine ecologist, but it has other qualities. To some extent collecting has to be excused here because there are already so many people catching seahorses that the whole subfamily Hippocampinae seems to be about completely pulverized into useless pharmaceuticals. And they are so cute, especially those pregnant males hanging around with  prehensile tails grasped around seaweed. It is probably easy to fall in love with seahorses, and Helen Scales has found every adjective to paint their virtues, beauty and mystery. For this is not just a fish book, it is a natural history and cultural history. After a little while of reading I lower my defense against the dangerously lurking anthropomorphisms and start to enjoy seahorse stories going back to Ancient Mediterranean civilizations and the story of Shennong and the birth of Chinese medicine, and forward to the pointless exploitation of seahorses for Chinese medicine and technical aspects of captive breeding. There is even a chapter about the early history of the aquarium hobby in mid-19th Century England that I found very warming. For those technically oriented there are lists of seahorse species, a map of seahorse distribution, numerous pages of references and a substantial bibliography. The shameless ideas about species discrimination is the only dreary part: "Imagine you are holding a length of silk ribbon dyed in all the colors of the rainbow; each color represents a different species. But where exactly does one species end and another begin?" The concept of a continuum of species and endless intermediates perpetuated by many ecologists, seems inexterminable.
Seahorses are lovely. They are cute, and strange of form. There are a little more than 50 species, the most rectly described Hippocampus paradoxus Foster & Gomon, 2010. Being nothing but curly pipefish, male broods the eggs and alevins, and does so in a pouch fitted to its belly. Freeswimming progeny is left for the currents, which may be hard upon such cute minihorses. However, once coupled a male and female stay a pair for all their life, and that provides the cream topping for the anthropomorphy of the creature. Indeed, pipefish including seahorses, provide important data for studying parental investment. In fish, brood care is commonly left to males (cichlids are an exception), but the brood-care is rarely much more than looking big and fierceful and staying atop of the offspring. Pipefish males stick out as truly live-bearing.
Contemplating seahorses it is easy to forget that it is humans that are like the other animals, and not cutie animals like seahorses and dogs that are like humans. All our behaviour comes from somewhere and has a direct evolutionary line back to an amoeba of sorts. The way we are has probably very little to do with our complex reflective brain that is constantly battered in abstract synaptical storms known as intellectual activity, along with empathy, reflection and self-awareness. Looking around us, it is obvious that human intellect is not favored at all in the animal community. A seahorse is completely unknowing, it does not think, reason, reflect or otherwise interact contemplatively upon its surroundings or its own senses. Although intelligence is not only a function of brain size, brain size in fish is indeed  indicative of abilities of thinking. FishBase has a database of brain size in fish, and you can use FishBase to plot brain weight vs. body weight. The brain of a 6 g seahorse weighs 12 mg (compare an average 1.5 kg in humans), and this is small even for a fish. It does not know it is a loving father and a devote husband, or a divine steed. If it were 12 feet tall it would probably just suck you in using its high-speed vacuum cleaner hose snout. That is not going to happen. Seahorses are forever cute. All this "human" behaviour in pipefish goes on with 12 mg of brain.  With that, what doesn't a seahorse male brain indicate that one could minimally expect from a father and husband …?
Footnotes:
Seahorses are a genus, Hippocampus, of pipefishes (family Syngnathidae) , belonging to the order Gasterosteiformes (sticklebacks, tube snouts, and the like). FishBase has information about 54 species of Hippocampus (as of 1 February 2010).
Poseidon's Steed is published by Gotham Books and available from all online book dealers. The paperback has 261 pages and a block of black and white photos. "This is one charming book about one charming fish." (Quote from the back cover).
The heading of this commentary is from a quote in Poseidon's Steed, taken from Daily Telegraph, London, 1869.
Seahorse scan by Sven O Kullander, CC-BY-NC.